Unlock your child's potential at Cole Valley Montessori
Who is Dr. Maria Montessori?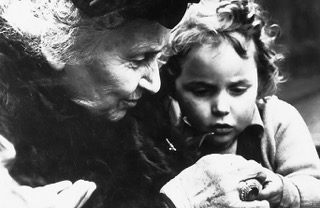 Dr. Maria Montessori was an Italian physician and educator, who opened her first school in 1907 in the poorest part of Rome. During her lifetime, Dr. Montessori developed and fine-tuned her method based on scientific observation, child development, and direct experience with children worldwide from a variety of racial, cultural, and socio-economic backgrounds. Today, there are over 7,000 accredited Montessori schools around the world.
What is Montessori Education?
Dr. Montessori observed that when a topic is introduced at the ideal time, interest is at its peak, and a child learns with ease and pleasure, setting the foundation for a lifelong love of learning.
The role of the Montessori teacher is to curate a rich learning environment, where each child's need for connection and belonging, purposeful work, intellectual stimulation, independence, movement, and security can be met.
Cole Valley Montessori's philosophy and curriculum follow the authentic Montessori Method, which:
Meets each child where they are, respecting their needs as learners and humans, and embracing their readiness to absorb new skills and knowledge

Integrates the whole child—mind, body, and spirit—brain development happens in doing, and hands-on learning creates a clear pathway for advancement

Honors the child, allowing a calmer pace ideal for conscious choice, and self-awareness

Empowers independence, concentration, and exploration, working with their natural state, rather than against it
How does the Montessori classroom function?
The Montessori classroom is designed to educate the whole person—emotional, cognitive, physical, and spiritual. It is structured to support social independence, independent action, and self-responsibility.
Children learn to behave with grace and courtesy, to work cooperatively with classmates, to respect themselves and others, all while acquiring a strong academic foundation.
Montessori classrooms are comprised of mixed-aged groups of children. At Cole Valley Montessori:
Toddler Classroom - children are between 18 months and 2.5 years old

Primary Classroom - children are between 2.5 and 6 years old
Mixed-age groups provide a unique learning opportunity for children that's not possible in classes with a strictly limited age group. Younger children are inspired by older children, often looking up to them as role models. Older children, as experienced members of the community, have the opportunity to be experts and leaders, which builds self-confidence.
The curriculum and learning materials cover the areas of mathematics, language, practical life, sensorial refinement, artistic expression, and cultural studies. Each activity is designed to engage the child, and each has a specific purpose and clear learning goals. At the same time, the child is also offered freedom and encouragement to explore and discover with the materials.